Meet Dr. Judy Husbands
The Road to Chiropractic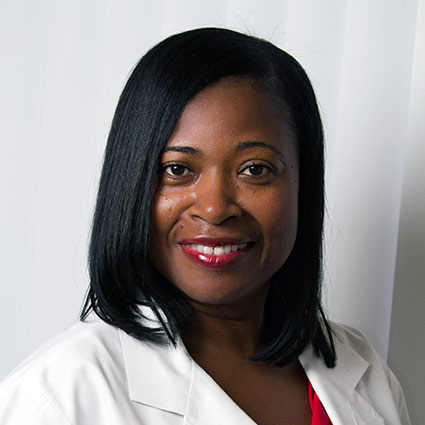 Dr. Judy Husbands moved to New York with her family when she was a child. She graduated from high school and a city college there, where she became interested in laboratory medicine. She obtained her bachelor's degrees in biology and chemistry from Oakwood College in Alabama, with the intention of going to medical school.
When Dr. Husbands graduated from Oakwood, she accepted an internship in Florida because she wanted to live somewhere warm. In the midst of her internship, she was rear-ended in a car crash that caused severe whiplash, resulting in headaches. She saw her primary care doctor, who prescribed increasingly stronger medications, which did nothing for her pain. Soon, the pain began radiating down her arms, causing numbness and tingling in her hands, and impairing her fine motor movements.
At this point, a friend suggested seeing a chiropractor. Dr. Husbands didn't even know what a chiropractor was, but she was willing to try. The chiropractor took the time to listen to her and explain what was happening, and how chiropractic could help. After one visit, her headaches improved. Within a few more visits, her pain was gone, along with the numbness and tingling. When she experienced firsthand how chiropractic could help a person recover after an injury, she knew that was the career for her!
Education and Certifications
Dr. Husbands attended her chiropractor's alma mater, Life University in Marietta, Georgia, graduating with her Doctor of Chiropractic degree in 2000. She has continued to pursue advanced studies and is certified in spinal decompression therapy. She is a member of the Florida Chiropractic Association and the Florida Chiropractic Physician Association.
After practicing in other clinics in the Orlando area since 2000, Dr. Husbands opened
Clermont Injury and Rehab
in 2021. She loves serving the growing community of diverse people in the Four Corners area.
Away From the Office
Music has always been a huge part of Dr. Husband's life, and she's currently trying ballroom dance. She loves action and suspense movies, traveling and learning languages.
Book Today
Contact us today to schedule an appointment!
---
Dr. Judy Husbands | (352) 708-3271